Welcome to the home of Mayberry's Floyd the barber tribute artist, humorist, and life-long fan of The Andy Griffith Show (TAGS), Allan Newsome.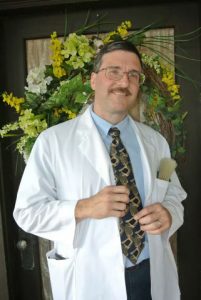 Allan has performed as "Floyd the Barber" for more than two decades having appeared in 17 states and a variety of venues since he began as a tribute artist in 1994.  He has experience in front of audiences of all sizes, performing on stage, video, radio, television, podcasts, and personal appearances including emceeing "An Evening with Don Knotts." ("The bigger they are, the nicer they are." – Barney Fife)
Allan appeared as himself in a featured role in the documentary The Mayberry Effect  providing insight into the nostalgia that draws fans to The Andy Griffith Show. Allan followed with a co-starring role in the feature film Mayberry Man where here appeared as "Floyd" to rave reviews.
Allan also runs the iMayberry.com website for The Andy Griffith Show Rerun Watchers Club,  hosts "Two Chairs No Waiting" (a weekly podcast and YouTube video production about TAGS – http://TwoChairsNoWaiting.com) and hosts The Mayberry Bible Study Podcast (http://MayberryBibleStudyPodcast.com).
Check here for contact information and for booking this performer. You won't regret the decision to make Mayberry's Barber a part of your event.